Seitenbandquarze
Conflict Materials Statement
There has been increased awareness of violence and human rights violations in the mining of certain minerals from a location described as the "Conflict Region", which is situated in the eastern portion of the Democratic Republic of the Congo (DRC) and surrounding countries.
In July of 2010, the United States Congress passed the Dodd-Frank Wall Street Reform and Consumer Protection Act (Wall Street Reform Act), which includes legislation mandating supply chain due diligence and requiring corporations to report the use of "Conflict Minerals" in the manufacture of their products. The specific metals in question are: Gold, Tantalum, Niobium, Tin, Iron, Manganese, and Tungsten. The details of the legislation can be found in Section 1502 of HR 4173, signed into law on July 21, 2010.
Amidon.de does not use any Conflict Minerals sourced from listed DRC countries. Suppliers must provide written evidence of due diligence documenting that raw materials used to produce gold, tin, tantalum and tungsten, supplied to or used in the manufacture of Amidon.de products, do not originate from mining or smelting operations in the Conflict Region. We will continue to proactively work with our suppliers to verify a conflict free supply chain.
RoHS2 Certificate
RoHS2-Declaration of Conformity
The form certifies that the listed amidon.de products comply fully with the requirements of the EU RoHS Directive 2015/863/EU (restriction of the use of certain hazardous substances in electrical and electronic equipment- RoHS2)
REACH Compliance Declaration
The European Regulation (EC) 1907/2006 concerning the Registration, Evaluation, Authorization and Restriction of Chemicals (REACH) entered into force on 1st June 2007 and ECHA Candidate list, updated July 12 2017.
Amidon.de is manufacturer and distributor of electronic products, thus, in the sense of REACH, we are so called "downstream-users". The products we supply to you are solely non-chemical products (goods). Moreover and under normal and reasonably foreseeable circumstances of application, the goods supplied to you shall not release any substance. For that, Amidon.de is neither obliged to the registration nor to the creation of material safety data sheet (MSDS).
Furthermore, we will immediately inform you in correspondence to REACH – Article 33 if any substance of content (as from a content of <0.1 %) in our goods will be classified alarming by the European Agency for Chemicals ECHA. Based on the current status, however, we do not expect such an incidence.
Alle angebenen Daten dienen der Orientierung und sind nicht als zugesicherte Eigenschaften anzusehen; beachten Sie bitte die Datenblätter der Hersteller!
| | | | | | |
| --- | --- | --- | --- | --- | --- |
| Frequenz | Halter | Toleranz | Tk | Bürde-C | RoHS |
| 8,9985 | HC-18/U | 20 ppm | 20 ppm | 30 pF | Ja |
| 9,0015 | HC-18/U | 20 ppm | 20 ppm | 30 pF | Ja |
| 10,6985 | HC-18/U | 20 ppm | 20 ppm | 30 pF | Ja |
| 10,7015 | HC-18/U | 20 ppm | 20 ppm | 30 pF | Ja |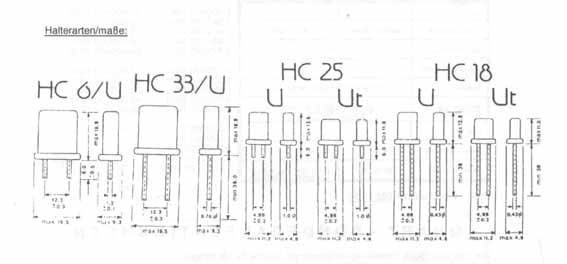 HC18U - ( =HC49U - HC43U )
HC25U - ( =HC50U - HC42U )
HC 6U - ( =HC48U - HC36U )
HC33U - ( =HC51U - HC47U )
HC45U - ( Subminiatur-Quarz )
Gehäuseausführungen entsprechend der Tabelle. Bitte beachten Sie, daß nicht alle Quarzfrequenzen in jeder gewünschten Gehäuseform geliefert werden können.
© Amidon.de-Profi-Electronic Kuhna -2018